Day Skipper and Yachtmaster Online
For a number of reasons, *and the current Coronavirus situation is a special reason*, some sailors choose e-learning.
SailNorth offers both Dayskipper and Yachtmaster Online in association with Skippers-OnLine (SOL).
+ Online courses are presented through fourteen subject modules and supported through hundreds of images, animations, videos, quizzes, exercises etc. to develop and to confirm your understanding of the subjects.

+ Instructor support is available online 7 days a week. In addition SailNorth will provide in Sheffield a Sunday, group tutorial session for one or other of the trickyer subjects 'Tides or Plotting Methods'.

+ Support material includes - Two RYA Training Charts - RYA Training Almanac - Code to download the RYA Training Plotter - RYA Course Handbook.

+ If required there is an optional 'Plotter and Divider Kit' (£28).

+ There are two compulsory assessments (three for Yachtmaster) for which you may have unlimited attempts, and you have 6 month access to complete the program.
+ The output from the course is the RYA Course Completion Certificate plus of course a comprehensive understanding of navigation at sea.
These are skills not easilly gained when onboard and concentrating on the practical boat handling skills.
Click the image for a demo of the
Dayskipper Pilotage Module

Click the image for a demo of the
Dayskipper Bouyage Module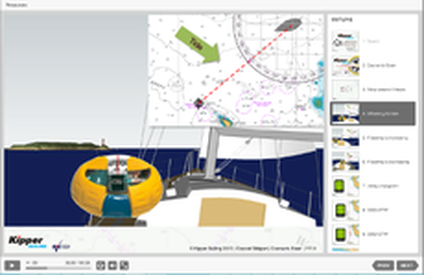 At present we have a special, reduced, price offer of £245.
If you are interested to sign-up for the Dayskipper (£295); Yachtmaster (£315),
YM-Ocean (£295) or the Combined Course (£390); click the image above to explore the sign-up page, or maybe click 'contact' above, or phone below, to further discuss your options.

Dayskipper online comprises thirteen modules and 15 exercises.

-Charts and publication
-Tidal Awareness
-Tidal Heights, Tidal Streams
-Compass and Position Fixing
-Dead Reckoning and Estimated Position
-Course to steer
-Electronic Navigation
-Buoyage
-Pilotage
-Passage Planning
-Passage Making
-Safety, The environment
-Meteorology
-Collision Regulations.

Lesson modules and the associated exercises require 2 – 5 hours to complete over the autumn and winter months (or lockdown! sorry) as you plan your trips for next year.